RELEASE DATE: 3/2/07
FOR IMMEDIATE RELEASE: Wyland Named Preseason All-American
MANSFIELD – Ryan Wyland (Williamsport/Loyalsock) has been named by Collegiate Baseball as a Division II preseason All-American.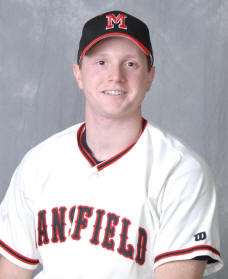 Collegiate Baseball, the definitive publication for college baseball throughout the year, selects the preseason All-Americans based on the previous season and the All-Region voting.
Wyland enters this year with high expectations after garnering numerous awards last season.
Wyland earned his second consecutive All-PSAC East First Team honors last year and was then named to the National Collegiate Baseball Writers Association (NCBWA) North Atlantic Region Second Team. Following that, he was named by the American Baseball Coaches Association (ABCA) and Rawlings to the First Team All-Region Team for the North Atlantic Region.
Wyland won All-Region First Team honors at utility after starting in all 55 games last season. He played third base, second base, outfield and pitched. Wyland had a PSAC best 83 hits on the season including 15 doubles, a triple and seven homeruns. He also led the PSAC in runs scored (60) while driving in 42 runners and stealing 14 bases on 18 attempts. Wyland's .403 batting average with fifth best in the PSAC. He also was a solid performer on the mound, appearing in 14 games and posting a 4-4 overall record. In 38.1 innings worked he struck out 31 batters.
Wyland and the Mountaineers will kick off the 2007 campaign on March 8th in Fort Meyers, Florida when they will take on Stonehill College. Mansfield will play 12 games on the Florida trip before returning for the home opener on March 18th against Bryant.
-www.GoMounties.com-