RELEASE DATE: 5/31/07
FOR IMMEDIATE RELEASE: Wyland Anxiously Waiting for Draft Day
MANSFIELD – Ryan Wyland (Williamsport/Loyalsock) is anxiously waiting for the 2007 Major League Baseball Draft which will take place on Thursday, June 7. The leader of the Mountaineer squad finished his stellar career at Mansfield by being named the PSAC East Player of the Year and earning first team All-Region honors.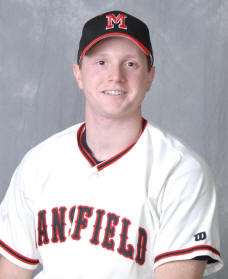 "I really think he has a solid chance at getting picked up in the draft," says head coach Harry Hillson. "If he has any problem at all, it's that he is good at everything rather than just standing out in one area of the game."
Hillson's statement about Wyland being good at everything could not have been more true this season.
From the leadoff spot, he excelled at the plate ranking second among full-time starters on the team with a .331 average and 24 RBI in 38 games played and led all Mountaineers with 47 hits, 71 total bases, 17 extra-base hits and went 13-for-13 in stolen base attempts.
Wyland's other dynamic comes from his stellar play in the field. He earned first team All-North Atlantic Region honors as a centerfielder.
The wildcard in all of this is that Ryan has improved greatly on the mound and appears to have middle-relief quality at the next level. On the mound this season he made nine appearances with seven starts and six complete games. He registered a 6-2 record with a 3.40 ERA with 27 strikeouts over 50.1 innings.
What's missing from the bottom line on the stat sheet is the gutty performance he put forth against the number two ranked team in the country. Playing Kutztown on the road, Wyland threw a complete seven inning game that would need extra innings after a Mountie rally tied the game in the seventh. Wyland returned to the mound to throw the eighth and ninth innings in dropping a heartbreaking 5-4 loss in the bottom of the ninth inning after throwing well over 100 pitches.
His versatility and dedication to the game of baseball has drawn scouts throughout the year. Wyland has had numerous individual workouts with MLB organizations and continues to have upcoming workouts scheduled.
The draft will take place on Thursday, June 7, but is not the final option for Wyland.
If he is not picked up in the draft, he will still have the opportunity to sign a free agent deal.
"No matter what happens with the draft, I'm committed to making a living playing the game I love," says Wyland. "I'll be playing somewhere next year, we just don't know where yet."
For details regarding Wyland's draft status, check back to www.gomounties.com throughout the days following the draft.