RELEASE DATE: 4/02/07
FOR IMMEDIATE RELEASE: Mounties Ryan Wyland Named PSAC East Player of the Week – Senior's Hitting and Pitching Help Mansfield to 4-2 Week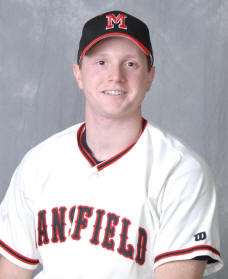 MANSFIELD – Mansfield University senior standout Ryan Wyland (Williamsport/Loyalsock) has been named the Pennsylvania State Athletic Conference (PSAC) Eastern Division Player of the Week for his outstanding hitting and pitching performance in the week ending 4/01/07.
A preseason All-American, Wyland was impressive both with the bat and on the mound for the Mountaineers in helping his team to a 4-2 mark during the week.
Wyland batted .391 during the week with his nine hits included two doubles and home run. He also drove in eight runs while scoring five times and was 4-4 in stolen bases.
He also started and won two games on the mound during the week with victories over Lock Haven and a complete game win at nationally ranked West Chester. In 11.0 innings pitched, Wyland allowed four earned runs (3.27 ERA) on nine hits while striking out six and walking one.
Wyland has started all 18 games this season for the Mountaineers and is first on the team in at-bats (71), runs (18), hits (25) and slugging percentage (.577). He is batting .352 on the season and is a perfect 9-9 in stolen bases.
On the mound Wyland is a perfect 3-0 on the year with a team best 3.15 ERA. In 20.0 innings, Wyland has allowed seven earned runs while striking out 10 batters.
Mansfield is currently 8-10 overall on the season and 2-2 in the PSAC East. The Mountaineers host IUP in a PSAC cross-over doubleheader Tuesday at Shaute Field starting at 1 p.m.