RELEASE DATE: 3/12/07
FOR IMMEDIATE RELEASE: Mounties fall to 1-5 with 12-4 loss to Wayne State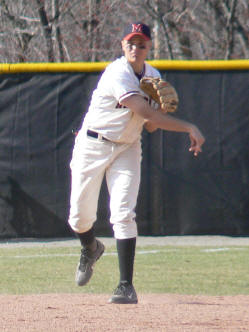 Ft. Myers, FL – Wayne State (NB) scored seven runs over their last three at-bats to beat Mansfield 12-4 in college baseball action in Ft. Myers, FL Monday afternoon.
Mansfield trailed 1-0 in the top of the third when Matt Young (Huntingdon/Huntingdon) led off with a walk and stole second. Young then scored on a double by Ryan Wyland (Williamsport/Loyalsock) and Wyland would score off a fielder's choice from Ryan Giblin (Feasterville/Neshaminy) to give Mansfield the lead.
Wayne State added a solo run in the bottom of the inning and scored twice more in the fourth. Mansfield tied the score at 4-4 on two runs in the top of the fourth off a two-run single from Dave Meldrum (Venetia/Peters Township).
But Wayne State would score eight more runs including four in the six and three more in the eighth to send Mansfield to its sixth defeat in seven games.
Matt Young went 3-3 at the plate for Mansfield with Nate Grove (Williamsport/Williamsport) going 2-2. Wyland was 2-5 with a double and RBI.
Tony Hines hit two homeruns and drove in three RBI for Wayne State (6-1).
Mansfield has a day off on Tuesday before taking on the University of Charleston in a doubleheader on Wednesday morning.
Mansfield 002 020 000 4-11-1
Wayne State 011 214 03x 12-13-1
Mansfield (1-6): Shane Ryan (L, 0-1), Ryan Wyland (6), Trevor Tellip (8) and Scott Erickson
2b – Ryan Wyland, Travis Lepperd
RBI – Dave Meldrum 2, Ryan Giblin, Wyland
Wayne State (6-1): Andy Claerr (W, 1-0), Chuck Pate (8), David White (9) and Bob Schmidt
2b – Jon Weisman 2, Matt Cunningham, Ryan LaPensee
HR – Tony Hines 2, Derek Ranck
RBI – Hines 3, Ranck 2, LaPensee 2, Weisman, Brett Witczak