RELEASE DATE: 3/08/07
FOR IMMEDIATE RELEASE: Mounties open 2007 with 8-1 win over Stonehill at Ft. Myers – Yoder throws complete game seven-hitter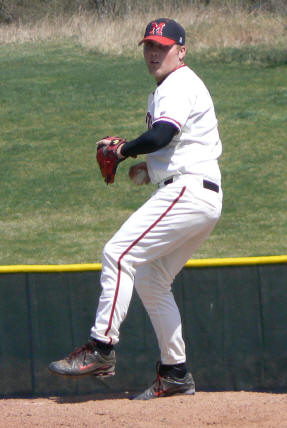 FT. MYERS, FL – Senior Dan Yoder (Williamsport/Williamsport) scattered seven hits in striking out eight to lead Mansfield to a 8-1 win over Stonehill in the opening game of the 200 season in Ft. Myers, FL Thursday afternoon.
Yoder, who walked just two batters, was exceptional in the season opener and got early support from his teammates.
Matt Young (Huntingdon/Huntingdon) led off the bottom of the first with a single and stole second before scoring on a two-run double by Cory Stinger (Chambersburg/Chambersburg).
Mansfield added three more runs in the third when preseason All-American Ryan Wyland (Williamsport/Loyalsock) singled and more to third on a double by Dave Meldrum (Venetia/Peters Township). Wyland scored on a ground out by Nate Grove (Williamsport/Williamsport). Mansfield scored twice more in the innings off Stonehill errors.
The Mountaineers put the game out of reach in the seventh when Wyland led off with a triple. Wyland later scored on an error before senior Scott Erickson (Elmira,NY/EFA) drove home two runs with a single.
Stonehill scored its only run in the second inning on an RBI double by Blake Marston.
Wyland, Travis Lepperd (Duncannon/Susquenita) and Ryan Giblin (Feasterville/Neshaminy) each had two hits for the Mountaineers while Stinger drove in three runs.
Mansfield had no errors while Stonehill committed four.
The Mountaineers will face Saginaw Valley in a doubleheader on Friday.
Mansfield 8 Stonehill 1
Stonehill 010 000 000 1-7-4
Mansfield 203 000 00x 8-11-0
Stonehill (3-5): Alex Harrison (L, 0-1) and Matt Orr
2b – Blake Marston RBI – Blake Marston
Mansfield (1-0): Dan Yoder (W, 1-0) and Scott Erickson
2b – Dave Meldrum, Cody Stinger 3b – Ryan Wyland
RBI – Stinger 3, Erickson 2, Nate Grove