RELEASE DATE: 3/04/07
FOR IMMEDIATE RELEASE: Mountie Baseball Opens 2007 Season at Ft. Myers on Thursday --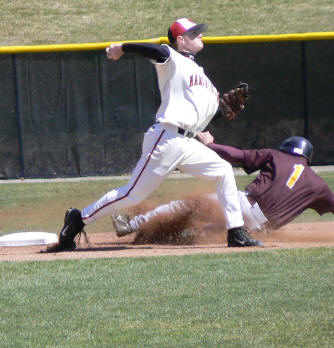 Mansfield -- The Mansfield University baseball team will open the 2007 season this Thursday, March 8, when they take on Stonehill (MA) College in Ft. Myers, Fl.
The Mountaineers will play 12 games, including games against #9 ranked Ashland and #10 ranked Central Missouri State over a nine-day span in Florida before returning home to host Bryant College in a doubleheader on March 18.
Mansfield is coming off a 31-24 season including a third-straight PSAC playoff appearance last season and returns six position starters and three starting pitchers from last year's team.
With 645 victories over 20 seasons as the head coach of the Mansfield University baseball program, Harry Hillson knows a little bit about winning baseball games.
Hillson expects those wining ways, including nine PSAC East Championships and five overall PSAC titles, to continue for the 2007 season despite fielding a young team that includes 17 freshmen and sophomores on a 26 man roster.
"We maybe a little younger than usual," said Hillson. "But we got some pretty good players on this team and we expect to be in the thick of things again by the time the conference season rolls around."
Under Hillson's watch, the Mountaineers have been historically been one of the top hitting clubs in Pennsylvania State Athletic Conference, Last season Mansfield finished second in the PSAC with a .334 team batting average and we six returning position starters, Hillson expects his team will again rank among the conference elite.
What the Mountaineers do have returning is impressive.
Expect to see a lot of senior Ryan Wyland (Williamsport/Loyalsock)
Wyland was one of the top players in all of NCAA Division II last season earning All-PSAC East First Team and Northeast Regional honors. Wyland, a Preseason Collegiate Baseball All-American selection, batted a team best .403 last season with seven home runs and 42 RBI's. He was also stellar on the mound posting a 4-4 mark while striking out 31 batters in 38.1 innings worked. Wyland will start in center field this season and is projected to be the Mounties closer on the mound.
Senior Travis Lepperd (Duncannon/Susquentia) was a pleasant surprise last season where he batted .388 while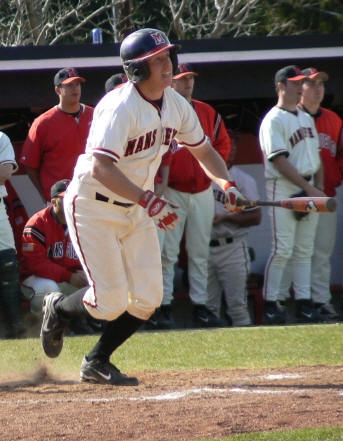 starting 43 games as second base. Lepperd will move to left field to start the 2007 season.
Senior Scott Erickson (Elmira, NY/EFA) established himself as one of the top catchers in the conference last year batting .336 with 21 RBI's while throwing out 12 base runners. The two-year starter is as solid defensively as he is offensively.
Senior Dave Meldrum (Venetia/Peters Township) will give the team some muscle from the left-side after 45 games at first base last season. Meldrum batted .300 in 2006 with five home runs and 37 RBI's.
Junior Ryan Giblin (Feasterville/Neshaminy) started all 55 games at shortstop last year where he batted .357 with 32 RBI's. A slick fielder with good range, Giblin will anchor the infield again this season.

The biggest question in the preseason surrounds the pitching staff.
The Mountaineers have high expectations for senior ace Dan Yoder (Williamsport/Williamsport). A three-year starter, Yoder missed all of the 2005 season with an injury but was looking like the pitcher who was the PSAC East Rookie of the Year as a freshman by the end of the 2006 season. Yoder posted a 4-4 overall record but got better as the season progressed, throwing a complete game six-hitter against California in the PSAC playoffs.
He will be joined by fellow senior and former high school teammate Nick Grove (Williamsport/Williamsport). A two-year starter, Grove is hard-throwing righty who posted a 3-5 mark last season despite some control issues. He has looked impressive in preseason and is expected to be a mainstay starter again this season.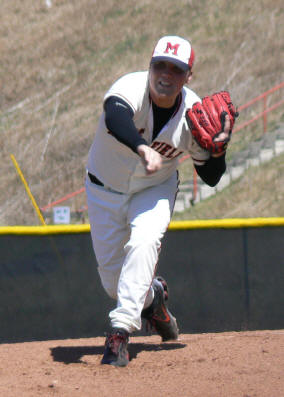 Grove's younger brother Nate Grove (Williamsport/Williamsport), will also see time on the mound when he's not starting in right field. As a freshman last season, Nate posted a 3-0 mark while working 26.1 innings on the mound.
Tyler Noel (Irvona/Glendale) appeared in seven games as a freshman last season including two starts and posted a 2-0 record. A bigger, stronger Noel is expected to pushing for one of the top four rotation spots this year.
Freshman Eric Rosenberger (Dillsburg/Northern) was one of the Mountaineers top recruit and has been impressive during the preseason season. The lefty could evolve into one of the top pitchers on the staff over the course of the season.
Shane Ryan (Levittown/Neshaminy) is another freshman pitcher with a lot of promise, Ryan will be given me opportunity to win a spot in the rotation early and the season and could also see innings in relief.
Josh Haines (Beavertown/West Snyder) will return to the mound this season after a medical-red shirt last year. Haines is a big lefthander who will see time as a middle reliever.
Four newcomers will add depth to the bullpen with freshman Zachary Ullrich (Camp Hill/Cedar Cliff) also a possible starter. Sophomore Trevor Tellip (Jermyn/Lakeland) along with freshmen Chris Coleman (Carbondale/Carbondale) and Joshua Michalko (Fairport,NY/Fairport) are set for middle relief.
Sophomore Matt Young (Huntingdon/Huntingdon) will start at second base after batting .273 in 23 games last year. Junior College transfer Cory Stinger (Chambersburg/Chambersburg) will move right into the starting spot at third with a solid bat and good speed.

Transfer Drew Bair (Phoenix, AZ/Mountainridge) will vie for a starting spot at second and can also play short while sophomore Lance Miller (Newville/Big Spring) will serve as an infield utility player.
Sophomore Justin Baer (Williamsport/Williamsport) will start the year off as the designated hitter after a medical red shirt last season. He will also see time at catcher.
Sophomore Ryan Riley (Windsor/Windsor) is also projected at DH along with freshman Nick Martyak (Doylestown/Central Bucks West).
Sophomore Tony Battisti (Horseheads,NY/Horseheads) could backup Erickson at catcher or at third base with sophomore Chris Miller (Kenvil, NJ/Roxbury) playing the outfield.