RELEASE DATE: 4/17/07
FOR IMMEDIATE RELEASE: Mounties Eric Rosenberger named PSAC East Pitcher of the Week – freshman goes 2-0 on week allowing no earned runs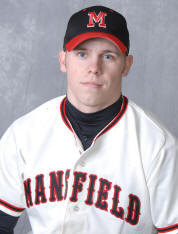 MANSFIELD – Mansfield University freshman Eric Rosenberger (Dillsburg/Northern) has been named the Pennsylvania State Athletic Conference (PSAC) Eastern Division Pitcher of the Week for his outstanding performance in the week ending 4/15/07.
Rosenberger went 2-0 during the week with two complete games. He did not allow an earned run in 14.0 innings worked while striking out four and walking none.
He threw a six-hit shutout over Bloomsburg and did not allow an extra-base hit. He also threw a complete game win over Millersville.
For the season Rosenberger has compiled a 4-2 record with a 2.83 ERA. He has struck out 24 batters in 41.1 innings worked while walking just nine.
The Mountaineers are currently tied for second place in the PSAC East with a 6-6 record and are 13-15 overall. They are scheduled to travel to East Stroudsburg on Friday and host the Warriors at Shaute Field on Saturday.
www.GoMounties.com