RELEASE DATE: 3/11/07
FOR IMMEDIATE RELEASE: Mounties Drop Doubleheader to North Dakota in Slugfest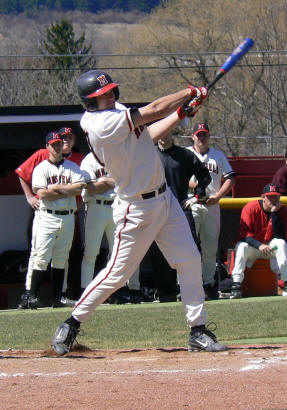 Cape Coral, FL – The Mansfield University baseball team pounded out 25 hits but still lost a 8-6, 19-10 doubleheader to North Dakota in Cape Coral, FL on Sunday afternoon.
Mansfield out hit North Dakota 14-11 in the opener and held 5-4 going into the bottom of the fifth behind solo home runs from Scott Erickson (Elmira,NY/EFA), Nate Grove (Williamsport/Williamsport) and Ryan Wyland (Williamsport/Loyalsock)..
But North Dakota would rally with two runs each in the bottom of the fifth and sixth to pull out the win. Wyland led the Mountaineers at the plate going 3-5 with a double and homerun while Cory Stinger (Chambersburg/Chambersburg) went 3-4.
In the nightcap, North Dakota exploded for 14 runs over the first tree innings and the Mountaineers could never catch up. Nate Grove started and took the loss for Mansfield with Justin Bair (Williamsport/Williamsport) belting a three-home run in the fifth and Dave Meldrum (Venetia/Peters Township) a two-run homer also in the same inning to lead the Mountaineers at the plate. Bair and Meldrum both went 2-4 in the game with Matt Young (Huntingdon/Huntingdon) was 2-4 with a double.
Mansfield falls to 1-4 on the season while North Dakota improved to 2-1.
Mansfield will play Wayne State (NEB) in a single game tomorrow.
Box score unavailable until Monday