RELEASE DATE: 3/15/07
FOR IMMEDIATE RELEASE: Mounties Split with Minnesota-Duluth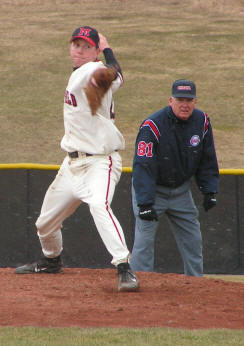 FT. MYERS, FL -- The Mountaineer baseball team split a pair of games with Minnesota-Duluth on Thursday morning in Fort Myers, Florida.
In game one, the Mountaineers took a 5-2 lead after the top of the second but the Bulldogs responded with a four run second inning to pull away for the 11-7 victory.
In game two, Ryan Wyland threw a complete game allowing six hits and just one run to earn the win.
All of the scoring came in the error-heavy fifth inning as the Mountaineers scored four runs off one RBI and the Bulldogs recorded their solo run of the contest.
Matt Young picked up the solo RBI in the contest.
Nick Grove threw the early game and picked up the loss after being relieved in the second inning. Zach Ullrich threw the second inning and Trevor Tellip pitched the remainder of the contest.
Nate Grove and Justin Baer each recorded a double in the game while Dave Meldrum knocked in two runs. Baer recorded the other Mountaineer RBI.
Mansfield improves to 4-8 overall and will play a single game tomorrow against Ashland to close out the Florida trip.
GAME ONE
Minn-Duluth 243 011 x 11-11-3
Mansfield 230 000 2 7-6-2
Minnesota-Duluth (5-8): Moen (W), Stone (2), Vaudreuil (9) and Kerber
2b – Olson, Jagiela 3b – Zweber
HR – Garlfeau
RBI - Johnson-3, Zweber-2, Jagiela-2, Olson, Garlfeau
Mansfield (3-8): Nick Grove (L, 0-2), Ullrich (2), Tellip (3) and Scott Erickson
2b – Nate Grove, Baer
RBI – Meldrum-2, Baer
GAME TWO
Mansfield 000 040 x 4-7-1
Minn-Duluth 000 010 0 1-6-4
Mansfield (4-9): Ryan Wyland (W) and Scott Erickson
RBI –Young
Minn-Duluth (5-9): Wilfhart (L), Jagiela (5), Urbaniak (6) and Brunette
2b – Olson
RBI - Johnson