RELEASE DATE: 4/7/07
FOR IMMEDIATE RELEASE: Ryan Wyland throws three-hitter in nightcap to salvage split with Millersville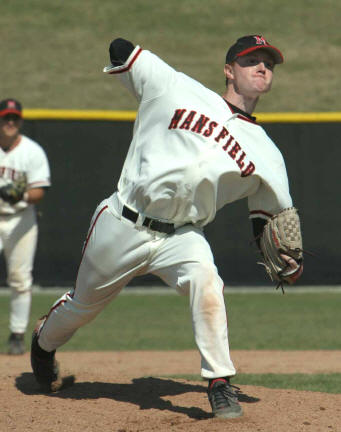 MILLERSVILLE – Ryan Wyland tossed a complete game three-hitter and Scott Erickson belted his second home run of the season to lift Mansfield to a 4-1 win in the second game of a PSAC East doubleheader at Millersville Saturday afternoon. Millersville won the opener 3-1.
Wyland was sharp despite the frigid conditions retiring nine of the first ten batters he faced including four by strikeout. He didn't allow a hit until Millersville's Andrew Dochterman led off the bottom of the fourth with a single.
Wyland ended the game by striking out Enrique Arroyo to improve his record to 5-0 on the season. He struck out six while walking five.
Scott Erickson scored the games first run when he drilled his second home run of the season over the centerfield fence to give Mansfield a 1-0 lead.
Millersville tied the game with a run in the fifth but the Mountaineers added two more in the sixth on an RBI single by Travis Lepperd and RBI by Matt Young. Mansfield added another run in the seventh on a RBI single by Ryan Giblin.
In the opener, Wyland led off the game with a double down the right field line and later scored on a sacrifice fly by Erickson but Millersville would rally with a run in the second and two in the third to pull out the win. All three Millersville runs scored with two outs including two on a single by Bryan Stovall in the third.
Dan Yoder went the distance in the loss scattering six hits – all singles -- and striking out five. Chris Miller went 2-3 from the plate.
Mansfield is now 10-12 overall and 3-3 in the PSAC and will host Millersville in a makeup doubleheader at Shaute Field on Monday starting at 1 p.m.
Game One
Mansfield 100 000 0 1-5-1
Millersville 012 000 x 3-6-0
Mansfield (9-12, 2-3 PSAC East): Dan Yoder (L, 2-2) and Scott Erickson
2b – Ryan Wyland, Chris Miller RBI – Erickson
Millersville (6-23, 1-4 PSAC East): Ross Nicolini (W, 1-1), Jeff Mazalewski (6) (S) and Corey Phalan
RBI – Bryan Stover 2, Brian Booth
Game Two
Mansfield 000 102 1 4-6-0
Millersville 000 010 0 1-3-1
Mansfield (10-12, 3-3 PSAC East): Ryan Wyland (W, 5-0) and Scott Erickson
HR – Erickson (2) RBI – Erickson, Ryan Giblin, Travis Lepperd, Matt Young
Millersville (6-24, 1-5 PSAC East): Kevin Leddy (L, 1-4), Steve Johnson (7) and Brian Booth
2b – Tim Bianchi RBI – Enrique Arroyo