RELEASE DATE: 4/29/07
FOR IMMEDIATE RELEASE: Mounties end season with a pair of losses to #2 ranked Kutztown – Mansfield out of the PSAC playoffs for the first time in four years.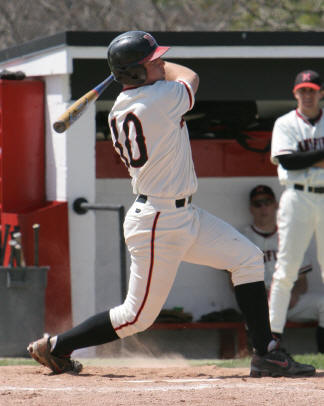 MANSFIELD – The games were close but Mansfield couldn't pull off a couple of upset wins over #2 nationally ranked Kutztown losing a PSAC East doubleheader 9-8 and 5-2 Sunday afternoon at Shaute Field.
The losses end the season for the Mountaineers, who had to sweep Kutztown and have East Stroudsburg lose a pair of games to West Chester in order to earn the final spot in the upcoming PSAC playoffs.
In the opener, the Mountaineers jumped out to a 4-0 in the first when Ryan Wyland led off the inning with a single and scored on a double by Dave Meldrum. Nate Grove then singled in Meldrum with Grove later scoring on a field choice by Travis Lepperd. The Mountaineer scored their final run of the inning off an error.
Senior Dan Yoder, making his final appearance of his distinguish career at Shaute Field, held West Chester scoreless over the first two innings before Steve Craig tied the game with a grand slam in the third inning. Kutztown added another run in the frame to take a 5-4 lead.
Mansfield tied the game at 5-5 in the bottom of the inning on a fielder's choice RBI by Lepperd.
The game remained tied at 6-6 with both team scoring a run in the fourth.
Kutztown scored three runs in the top of the fifth inning with the Mountaineers cutting the lead to 9-6 in to in the bottom half of the inning on a RBI single by Meldrum.
Mansfield would score two more in the bottom of the sixth on another RBI single by Meldrum and ground out by Ryan Giblin.
Kutztown's Phillip Rummel retired the side in order to close out the seventh giving him his seventh win of the season.
Meldrum went 3-3 with a double and three RBI's for Mansfield.
In the nightcap, Kutztown took a 5-0 lead into the bottom of the seventh inning before Chris Miller broke up the shutout with a leadoff home run. Lance Miller added an RBI single and Mansfield had two runners on with no outs but could pull no closer.
Ryan Giblin went 2-4 for the Mountaineers.
Mansfield ended the weather plagued season with an overall 16-22 record and 7-13 PSAC East mark. It marks the first time since 2003 the Mountaineers have failed to make the playoff and snaps a 17-year string of winning seasons.
Game One
Kutztown 005 130 0 9-11-2
Mansfield 401 102 0 8-9-2
Kutztown (42-3, 18-1): Phillip Rummel (W, 7-1) and Matt Dierolf
2b – Ryan Loper, Mike Bucklin HR – Steve Craig, Dan Gavlick
RBI – Craig 4, Gavlick 2, Nate Kranz, Jared Frey
Mansfield (16-21, 7-12): Dan Yoder (L, 2-5), Zach Ullrick (5) and Scott Erickson
2b – Dave Meldrum RBI – Meldrum 3, Travis Lepperd 2, Nate Grove, Ryan Giblin
Game two
Kutztown 021 002 0 5-12-1
Mansfield 000 000 2 2-7-2
Kutztown (43-3, 19-1): Darin Gorski (W, 4-0) and Matt Kulbacki
2b – Mike Kacelowicz, Garrison Rausch, Mike McCardell, Loper
RBI – McCardell, Dan Gavlick
Mansfield (16-22, 7-13): Tyler Noel (L, 1-4), Shane Ryan (7) and Scott Erickson
HR – Chris Miller (1) RBI C. Miller, Lance Miller