RELEASE DATE: 4/22/07
FOR IMMEDIATE RELEASE: Mounties Split at ESU – Wyland Picks up Sixth Win of Season and Erickson Homes in Game Two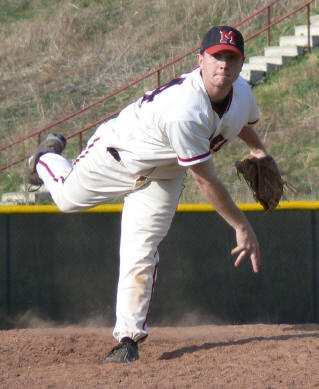 EAST STROUDSBURG – Ryan Wyland earned his sixth win of the season and Scott Erickson hit his third home run of the year to lead Mansfield to a 8-5 win over East Stroudsburg in the second game of a PSAC East doubleheader Sunday afternoon.
Mansfield lost the opener 5-3.
Wyland scattered six hits and struck out five in going the distance to improve to 6-1 on the season. Only two of the five runs allowed were earned.
Mansfield scored in the first when Wyland led off with a triple and later scored on a sac fly by Nate Grove. The Mountaineers added two more in the second on a two-run double by Wyland and another run in the third when Erickson led off with his third home run of the season.
Mansfield added four more runs in the fifth, two of them on a single by Chris Miller.
In the opener, four Mansfield errors led to three unearned runs in the 5-3 defeat. Eric Rosenberger went the distance for the Mountaineers striking out three and walking none.
Wyland and Chris Miller each went 2-3 for Mansfield.
GAME ONE
Mansfield 001 110 0 3-6-4
East Stroudsburg 410 000 x 5-9-2
Mansfield (13-18, 6-9 PSAC East): Eric Rosenberger (L, 4-3) and Scott Erickson
2b – Erickson RBI – Nate Grove, Matt Young
East Stroudsburg (21-16, 8-7): Prazenka (W, 3-1), Gigliotti (6), Clemens (7) (s-6) and Knecht
2b – De Boer, Mueller RBI – Kecht 2, Butler 2, Shaeffer
GAME TWO
Mansfield 121 040 0 8-11-5
East Stroudsburg 000 203 0 5-6-0
Mansfield (14-18, 7-9): Ryan Wyland (W, 6-1) and Scott Erickson
2b – Wyland 3b – Wyland HR – Erickson (3)
RBI – Wyland 2, Chris Miller 2, Nate Grove, Erickson, Lance Miller
East Stroudsburg (21-17, 8-8): Manning (L, 3-5), Walker (3), Saveri (6) and Knecht
2b – Mueller RBI – Mueller 2, Zsenak, Serfass