RELEASE DATE: 3/14/07
FOR IMMEDIATE RELEASE: Mounties Sweep Charleston in Florida – Yoder Improves to 2-0 on the Season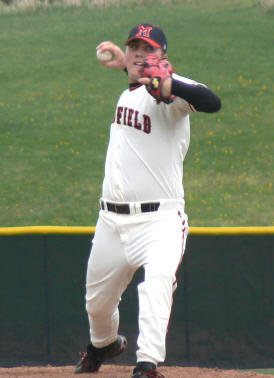 FT. MYERS, FL -- Senior Dan Yoder (Williamsport/Williamsport) and freshman Eric Rosenberger (Dillsburg/Northern) each threw compete games to lead Mansfield to a 9-6, 12-2 sweep over University of Charleston (WV) in Ft. Myers, FL Wednesday.
A day off on Monday helped rejuvenate the Mountaineers who snapped a six-game losing streak with the sweep.
In the opener, Yoder gave up seven hits, strike out four and allow three earned runs in picking up his second straight complete game win of the season.
Mansfield trailed 6-3 when they exploded for six runs in the bottom of the fifth inning tying the game on a RBI double by Scott Erickson (Elmira,NY/EFA) and run scoring single by Cody Stinger (Chambersburg/Chambersburg).
Senior All-American Ryan Wyland (Williamsport/Loyalsock) went 3-4 with a triple with Ryan Giblin (Feasterville/Neshaminy) also going 3-4 to lead the Mountaineer offense.
In the nightcap, the Mountaineer pitching staff got a much needed lift from Rosenberger who allowed no earned runs while striking out four and walking none. Mansfield pounded out a season high 15 hits including doubles by Wyland, Dave Medrum (Venetia/Peters Township), Nate Grove (Williamsport/Williamsport) and Justin Baer (Williamsport/Williamsport).
Grove was 3-4 with a double and RBI while Wyland was 2-5 with a double and two runs batted in. Giblin, Meldrum, Bair and Travis Lepperd (Duncannon/Susquenita) had two hits apiece.
Mansfield improves to 3-6 on the season and plays Minnesota-Duluth in a doubleheader on Wednesday.
GAME ONE
Charleston 021 120 0 6-7-2
Mansfield 102 060 x 9-10-2
Charleston (6-13): Erik Sehnal (L), Dan Burke (5), Jason Fisher (6) and Kyle Root
RBI - Dan Tilche 2, Brandon Steinberger, John McGuire
Mansfield (2-7): Dan Yoder (W, 2-0) and Scott Erickson
2b – Erickson, Matt Young 3b – Ryan Wyland
RBI – Cody Stinger, Dave Meldrum, Nate Grove, Matt Young, Erickson
GAME TWO
Mansfield 210 052 2 12-15-2
Charleston 000 200 X 2-5-2
Mansfield (3-7): Eric Rosenberger (W) and Justin Baer
2b – Wyland, Meldrum, Grove, Baer
RBI – Wyland 2, Travis Lepperd 2, Meldrum, Grove, Young, Baer
Charleston (6-14): Roger Dicks (L), Josh Moore and Kyle Root
RBI - Tony Crivello, Lance Ervin