RELEASE DATE: 3/10/07
FOR IMMEDIATE RELEASE: Mounties Drop 10-1 Decision Against #9 Central Missouri
FT. MYERS, FL – The Mountaineers dropped their third consecutive game of the Florida trip on Saturday evening as they fell 10-1 to number nine ranked Central Missouri State.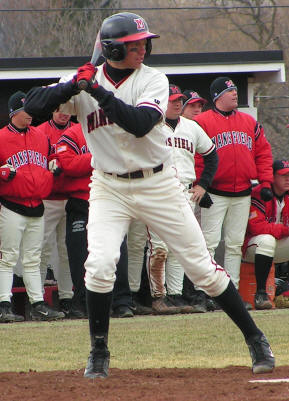 After a solid opening 8-1 win over Stonehill College to start the season, the Mountaineers have suffered serious setbacks against each of their last two opponents. Mansfield dropped a pair of games 14-3 and 9-6 yesterday against Saginaw Valley.
The young Mountaineers started freshman Zach Ullrich on the mound and Ullrich threw five plus innings allowing five runs before being relieved in the fifth inning by Josh Haines. Dave Meldrum closed out the game keeping Central Missouri off the board in the ninth.
Ullrich was credited with the loss.
Offensively, the Mountaineers have struggled over the three game losing streak, a problem that continued against Central Missouri. Mansfield recorded six hits to CM's 13.
Leading the Mountaineers at the plate was preseason All-American Ryan Wyland who had the only extra base hit for Mansfield with a double. Ryan Giblin picked up the single RBI for the Mounties.
Seth Gilleland picked up the win for Central Missouri after throwing seven innings and allowing one run.
The Mountaineers are back in action tomorrow when they take on North Dakota in a doubleheader scheduled to start at 1:00pm.
Mansfield 1 Central Missouri State 10
Central Missouri St. 014 004 010 10-13-1
Mansfield 000 010 000 1-6-2
#9 Central Missouri State (18-2): Seth Gilleland (W), Travis Pyatt (8), Alex Kent (9) and Luis Perez
2b – Joblin, Bergman 3b – Perez, Paul
HR – Paul
RBI – Paul-3, Jaros-2, Joblin-2, Perez, Weatherford
Mansfield (1-3): Zach Ullrich (L, 0-1), Josh Haines (5), Dave Meldrum (9) and Scott Erickson, Tony Battisti (7)
2b – Ryan Wyland
RBI – Ryan Giblin