RELEASE DATE: 3/16/07
FOR IMMEDIATE RELEASE: Mounties end Florida trip with 22-17 loss in slugfest with Ashland – Sunday's home opener against Bryant College cancelled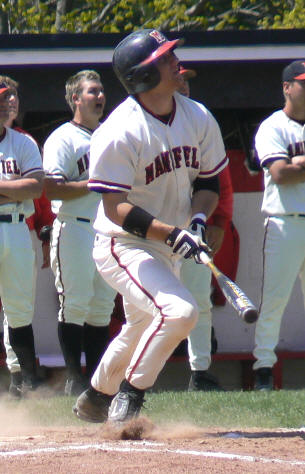 FT. MYERS, FL – Mansfield scored a season-high 17 runs but it wouldn't be enough as the Mountaineers wrapped up their Florida trip with a 22-17 loss to Ashland (OH) College Friday in Ft. Myers, FL.
It was the most runs scored in loss in head coach Harry Hillson's 1015 games at the helm of the program over the past 21 seasons. The last time Mansfield scored more runs in a loss was in a 22-18 setback to St. Bonaventure in 1985.
Ashland took a 5-0 until the Mountaineers exploded for eight runs in the bottom of the third keyed by Dave Meldrum's two-run home run.
But Ashland would score 17 times over the next four innings to build an insurmountable lead.
Mansfield pounded out 17 hits led by Meldrum went 3-4 with a home run and five RBI's. Cody Stinger was 3-6 with a double Scott Erickson 2-2 with two doubles.
Mansfield's home opener against Bryant College set for this Sunday at Shaute Field has been cancelled because of a late-season snowstorm.
Ashland 230 552 500 22-18-2
Mansfield 008 005 103 17-17-2
Ashland (8-8): Simon Liston, Jeremy Sloan (W) (3), Trent Barker (7), Tom Abbott (9) and Eric Zattlin
2b – Zattlin, Jeff Yates 3b – Jacob Petkac
HR – Quentin Eberhardt 2, Yates, Casey Jirsa
RBI – Eberhardt 7, Yates 7, Jirsa 3, Petkac 3, Justin Richards
Mansfield (4-9): Tyler Noel (L), Shane Ryan (4), Nate Grove (6), Josh Haines (8), Zach Ullrich (9) and Scott Erickson, Justin Baer (6)
2b – Scott Erickson 2, Cody Stinger, Travis Lepperd HR – Dave Meldrum
RBI – Meldrum 5, Travis Lepperd 3, Ryan Wyland 2, Nate Grove, Stinger, Matt Young, Ryan Riley