RELEASE DATE: 3/30/07

FOR IMMEDIATE RELEASE: Baseball Splits With #19 West Chester in Home Openers
MANSFIELD -- Cody Stinger hit a three run homerun in the bottom of the sixth inning to propel the Mountaineers over #19 West Chester 7-4 in the second game of a doubleheader at Shaute Field on Friday. Mansfield dropped the first game 17-0.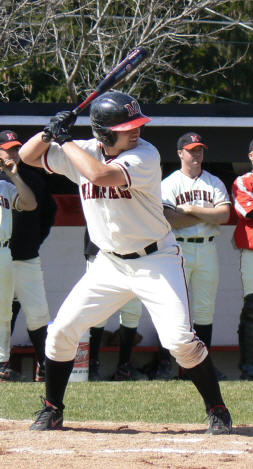 Ryan Wyland threw a complete game win in the night cap allowing three earned runs. The Mountaineers led the game from the beginning but West Chester would tie the game at 4-4 in the top of the sixth.
Mansfield answered in the bottom of the inning when Cody Stinger knocked out a three run homerun to score Wyland and Ryan Giblin and put the Mountaineers up 7-4.
Wyland would close out the game with a scoreless seventh inning to pick up his third win of the season.
Stinger went 3-for-3 in the game with four RBI while Giblin also went 3-for-3 and batted in two runners.
Mansfield struggled in the first contest dropping a 17-0 decision to the Golden Rams.
Dan Yoder was credited with the loss after allowing six runs in five innings of work.
Frank Gailey threw a complete game win for West Chester allowing just six hits.
Scott Erickson led the Mounties at the plate going 2-for-3 while Ryan Wyland notched the only extra base hit for Mansfield with a double.
The Mountaineers are now 7-9 overall and 1-1 in the PSAC East and will travel to West Chester tomorrow for another doubleheader with the Golden Rams.
Game One
West Chester 300 126 5 17-12-1
Mansfield 000 002 1 0-6-3
West Chester (12-4): Gailey (W, 3-1) and Stumpo
2b – Pare-2
RBI – McGrath-3, Bechter-2, Cotellese-2, Gilliford-2, Pare-2, Kelly, Woomer, Hopkins, Dameron
Mansfield (6-9): Dan Yoder (L, 2-1), Josh Haines (6), Nick Grove (7) and Scott Erickson
2b – Wyland
Game Two
West Chester 000 103 0 4-8-1
Mansfield 002 203 x 7-9-1
West Chester (12-5): Powl (L, 0-2), Carmichael (6) and Wolfe
2b – Gilliford 3b – McGrath
RBI – McGrath-2, Gilliford
Mansfield (7-9): Ryan Wyland (W, 3-0) and Erickson
2b – Stinger 3b – Stinger
HR – Stinger (2)
RBI – Stinger-4, Giblin-2, Nate Grove