RELEASE DATE: 3/27/07

FOR IMMEDIATE RELEASE: Baseball Sweeps Lock Haven 5-3 and 15-5
LOCK HAVEN -- Mansfield traveled to Lock Haven Tuesday afternoon and swept a pair of games 5-3 and 15-5 against the Bald Eagles.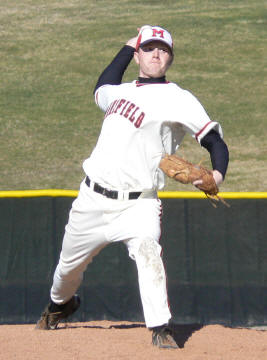 The Mountaineers added the doubleheader at Lock Haven to the schedule to get more games in before the PSAC East schedule begins and it appeared as if the young Mountaineer lineup was firing on all cylinders.
In game one, freshman Eric Rosenberger picked up the win after throwing five scoreless innings allowing only two hits and striking out four batters.
Cody Stinger, another first year Mountaineer, led Mansfield at the plate going 2-for-4 with a triple, a homerun, and two RBI. Ryan Wyland also had two RBI in game one.
Wyland would follow his impressive offensive performance in the first game by picking up the win on the mound in the second game. The preseason All-American threw four innings allowing only one run on one hit.
Wyland helped his own cause by going 2-for-4 at the plate with a double, a homerun, three runs, and four RBI. Dave Meldrum and Nate Grove each went 3-for-4 with three RBI while Travis Lepperd went 3-for-4 with two RBI.
Wyland and Meldrum teamed up with Scott Erickson, Chris Miller, and Chris Coleman as the Mounties hit five doubles and pounded out 18 hits in the contest.
The Mountaineers improve to 6-8 overall this season and will open the PSAC East schedule this Friday, March 30, when they host West Chester University at Shaute Field. The doubleheader is set to begin at 1:00 pm.
Game One
Mansfield 201 200 0 5-9-1
Lock Haven 000 002 1 3-5-1
Lock Haven (4-11): Young (L, 1-2), Karsetter (3), Fiala (4), Rote (5) and Ruane
HR – Breman (3)
RBI – Schuler, Breman
Mansfield (5-8): Eric Rosenberger (W, 2-1), Dan Yoder (6), and Scott Erickson
3b – Cody Stinger HR – Stinger (1)
RBI – Ryan Wyland-2, Stinger-2, Dave Meldrum
Game Two
Mansfield 320 262 0 15-18-2
Lock Haven 010 004 0 5-8-2
Lock Haven (4-12): Gordon (L, 0-2), Miller (2), Christensen (2), Fisher (4), Fischer (5), Whinnery (5), Szelong (5), Miller (5) and Ruane
2b – Sharrar HR – Smith, Battista
RBI – Smith-2, battista-2, Sharrar
Mansfield (6-8): Ryan Wyland (W, 2-0), Shane Ryan (5), Tyler Noel (7) and Erickson, Battisti
2b – Wyland, Meldrum, Coleman, Erickson, Miller HR – Wyland
RBI – Wyland-4, Meldrum-3, Nate Grove-3, Lepperd-2, Erickson, Coleman, Giblin