RELEASE DATE: 4/28/07
FOR IMMEDIATE RELEASE: Mountaineers Drop Two Tight Contests at #2 Kutztown
KUTZTOWN – The Mountaineers rallied for four runs in the top of the seventh inning to send game one into overtime before Kutztown picked up a 5-4 win in the bottom of the tenth inning in PSAC East action Saturday afternoon. The Mounties battled closely in the second contest falling 2-0 to the #2 ranked team in the NCAA Division II.
Ryan Wyland started on the mound and weaved a no-hitter through four innings before Kutztown got on the board in the fifth inning.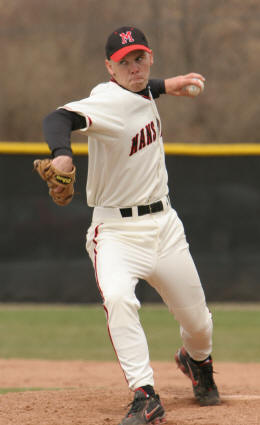 The Mountaineers bats were cold throughout the game but came alive in the top of the seventh inning. With four runs in, tying the game at 4-4, Dave Meldrum beat a throw to the plate but slid around the catcher and was called out before he could touch the plate. The controversial call would have been the Mountaineers fifth and winning run.
Chris Miller started the inning with a double before Lance Miller, Ryan Wyland, Ryan Giblin and Dave Meldrum all hit back to back singles. Scott Erickson added the RBI single that tied the game before Meldrum was thrown out at the plate.
Giblin and Meldrum each had two hits and an RBI while Wyland and Erickson recorded the other Mountaineer RBI.
Wyland was impressive on the mound throwing the complete game through the tenth inning facing 44 batters and allowing five runs on 11 hits.
Freshman Eric Rosenberger started game two and went the distance allowing just two runs on seven hits and striking out four but the Mountaineers could not garner any run support as Mansfield finished with just four hits in the game.
Wyland and Erickson were each 2-for-3 at the plate.
With the losses, Mansfield drops to 16-20 overall and 7-11 in the PSAC East while Kutztown improves to an unprecedented 41-3 overall and 17-1 in the PSAC East.
The Mountaineers playoff hopes are dwindling now as they will need to sweep the Golden Bears tomorrow at Shaute Field and have East Stroudsburg be swept by West Chester.
Mansfield will square off against the #2 ranked Golden Bears at 1:00pm.
GAME ONE
Mansfield 000 000 400 0 4-10-0
Kutztown 001 021 000 1 5-11-3
Mansfield (16-19, 7-10 PSAC East): Ryan Wyland (L, 6-2) and Scott Erickson
2b – Wyland, C. Miller RBI – Wyland, Giblin, Meldrum, Erickson
Kutztown (40-3, 16-1): Mills, Reis (5), Jachowicz (7) (W-2-0) and Kulbacki.
2b – Craig, Frey, Kacelowicz RBI – Craig, McCardell, Kacelowicz, Kulbacki
GAME TWO
Mansfield 000 000 0 0-4-0
Kutztown 000 200 x 2-7-0
Mansfield (16-20, 7-11 PSAC East): Eric Rosenberger (L, 4-4) and Scott Erickson.
2b – Erickson
Kutztown (41-3, 17-1): McCardell (W-6-1), Keller (5) (s-1) and Dierolf.
RBI – Bucklin, Mills