RELEASE DATE: 4/03/07
FOR IMMEDIATE RELEASE: Mounties Split With IUP -- Meldrum Goes 5-for-7 at Plate
Mansfield – The Mountaineers split a pair of games with IUP on Tuesday afternoon picking up a thrilling 10-9 win in game one and falling 6-2 in the second game.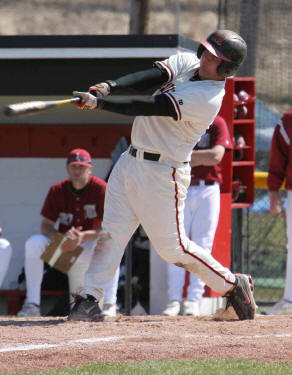 Dave Meldrum went on a hot streak at the plate going 5-for-7 on the day with five RBI including a two run homerun to bring the Mounties back into the first game. With his five RBI on the day, Meldrum moved into a tie for the top spot in the PSAC in RBI.
Mansfield trailed the entire contest but took a big chunk out of IUP's 9-4 lead in the bottom of the fifth inning when the Mountaineers scored three runs. Meldrum accounted for two of those when he hammered an 0-2 pitch over the left field fence.
Mansfield would add two more runs in the sixth inning to tie the game at 9-9. Ryan Wyland moved to the mound to close out the seventh inning and allowed no hits in a 1-2-3 inning to earn his fourth win of the season.
In the bottom of the seventh, Scott Erickson led off with a stand-up double and was driven home on an error by the IUP shortstop on a Chris Coleman ground ball.
Josh Hildebrand was credited with the loss for IUP.
In the second game, Nick Grove took the mound for the Mountaineers and threw two shutout innings before allowing four runs in the third inning. Freshman Eric Rosenberger came on in relief and went the rest of the distance. Grove earned the loss.
After the four run third inning for IUP, the Mountaineers responded with two runs in the bottom of the third when Dave Meldrum ripped an RBI single followed by a Travis Lepperd RBI.
Rosenberger allowed two runs in the bottom of the sixth and Mansfield could not get an offensive spark as IUP went on to win 6-2.
Brian Armour went the distance and earned the win for IUP.
Mansfield remains two games under .500 on the season with a 9-11 overall record and remains 2-2 in the PSAC East.
The Mountaineers are expected to be back in action on Friday when they host Millersville in a PSAC East doubleheader at 1:00pm. Inclement weather is predicted for the area so stay tuned at www.gomounties.com for updates throughout the week.
GAME ONE
IUP 240 120 0 9-11-3
Mansfield 013 032 1 10-10-0
Mansfield (9-10, 2-2): Tyler Noel, Zach Ullrich (2), Ryan Wyland (7)(W, 4-0) and Scott Erickson
2b – Scott Erickson, Matt Young HR – Dave Meldrum (3)
RBI – Meldrum-4, Young-2, Cody Stinger
IUP (10-17, 3-1): Chase McNutt, Jeremiah Negley (5), Josh Hildebrand (6) (L, 0-3) and Brennen Dayton
2b – Watkis, Dayton HR – Wise
RBI – Wise-3, Stryker-2, Albert-2, Dayton, Miscik
GAME TWO
IUP 004 002 0 6-12-1
Mansfield 002 000 0 2-8-2
Mansfield (9-11, 2-2): Nick Grove (L, 0-3), Eric Rosenberger (3), and Justin Baer, Scott Erickson (3)
RBI – Meldrum, Lepperd
IUP (11-17, 3-1): Brian Armour (W, 2-0) and TJ Nichols
2b – Nichols HR – Busti
RBI – Krizanik-2, Wise, Stryker, Busti