RELEASE DATE: 4/14/07
FOR IMMEDIATE RELEASE: Rosenberger Throws Complete Game Shutout as Mounties Sweep Bloomsburg
MANSFIELD – After struggling through two losses yesterday at Bloomsburg, the Mountaineers retaliated Saturday afternoon with a sweep of the Huskies at Shaute Field. Freshman southpaw Eric Rosenberger pitched a complete game shutout to pick up a 6-0 win in game one while Tyler Noel earned the victory in game two after coming on in relief and allowing just one earned run.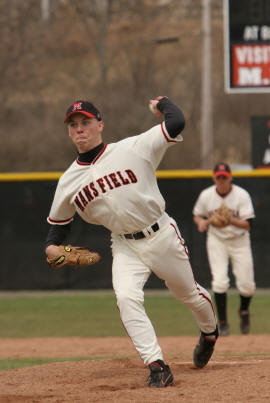 Ryan Wyland and Scott Erickson paired up in the first game to lead the Mounties at the plate with each of them going 2-for-3 and Wyland adding his ninth double of the season and bringing home two runners. Chris Miller was 2-for-4 with two RBI while Matt Young recorded the other two RBI.
Rosenberger threw a gem scattering six hits across seven innings while striking out two and allowing no walks.
Freshman Shane Ryan started game two on the mound and found himself in trouble early allowing four runs on four hits and one walk. Tyler Noel came on in relief to close out the first inning.
Noel would throw a gem himself allowing only one earned run on 93 pitches and picking up three strikeouts.
The Mountaineers took control of the game in the second inning when they batted through the order scoring seven runs on a streak that saw five consecutive hits including a homerun by Travis Lepperd.
Mansfield got a scare in the top of the seventh inning when leading 11-5 as Bloomsburg capitalized on back to back Mountaineer errors to score three runs and bring the tying run to the plate before grounding out to second base to end the game.
Chris Miller was impressive at the plate going 3-for-3 and adding his first homerun of the season. Lepperd and Dave Meldrum each had two RBI while Ryan Wyland, Ryan Giblin, and Scott Erickson all had extra-base hits.
With the sweep, the Mountaineers improve to 13-15 overall and 6-6 in the PSAC East while Bloomsburg dropped to 12-21 and 5-7 in the East.
Mansfield is scheduled to play a single game with Ithaca College tomorrow afternoon at 1:00. Inclement weather is predicted for the area so stay tuned to www.gomounties.com for updates.
Game One
Bloomsburg 000 000 0 0-6-2
Mansfield 010 131 x 6-10-0
Mansfield (12-15, 5-6 PSAC East): Eric Rosenberger (W, 4-2) and Scott Erickson.
2b – Ryan Wyland, Nate Grove
RBI – Ryan Wyland-2, Chris Miller-2, Matt Young-2
Bloomsburg (12-20, 5-6 PSAC East): Kernaghan (L, 0-5), Derkits (5) and James.
Game Two
Bloomsburg 400 010 3 8-9-1
Mansfield 271 010 x 11-11-2
Mansfield (13-15, 6-6 PSAC East): Shane Ryan, Tyler Noel (1) (W, 1-2) and Scott Erickson.
2b – Ryan Wyland, Ryan Giblin, Scott Erickson
HR – Travis Lepperd (1), Chris Miller (1)
Bloomsburg (12-21, 5-7 PSAC East): Rute (L, 3-1), Griggs (2) and Letts.
2b – Bucher, Letts HR – Ward (1)
RBI – Ward-2, Eckley-2, Bucher-2