RELEASE DATE: 4/13/07
FOR IMMEDIATE RELEASE: Mounties Struggle at Bloomsburg
BLOOMSBURG – The Mountaineers struggled at Bloomsburg on Friday afternoon dropping a pair of PSAC East contests 13-2 and 6-4 against the Huskies at Liwhiler Field.
Mountie senior Dan Yoder started game one on the mound and threw three complete innings allowing eight hits and nine earned runs. Trevor Tellip and Nick Grove combined for the remaining four runs with Tellip allowing no earned runs.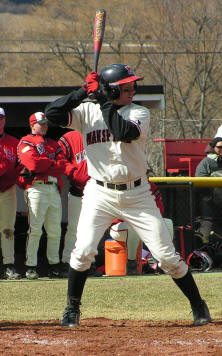 Ryan Giblin seemed to be the only Mountaineer that could get things going at the plate. Giblin went 4-for-4 with the team's lone RBI. Only Ryan Wyland, Travis Lepperd, and Matt Young were able to record hits in game one.
Mansfield came out stronger in the second game and actually outhit the Huskies 8-7 but could not come out with the win.
Ryan Wyland threw the complete game allowing seven hits and four earned runs en route to picking up his first loss of the season on the hill.
Wyland tried to help his cause going 2-for-4 at the plate with two runs scored. Matt Young was 2-for-3 with one RBI while Nate Grove was 2-for-4 with a RBI as well. Dave Meldrum had the other two Mountaineer RBI.
Mansfield led 3-1 entering the bottom of the fourth inning when the Huskies picked up three runs to take a 4-3 lead. The Mountaineers tied the game in the fifth inning but Bloomsburg would respond in the bottom of the sixth with two runs to seal the victory.
With the loss, the Mansfield drops to 11-15 overall and falls below .500 in the PSAC East at 4-6 while Bloomsburg improves to 12-19 overall and 5-5 in the East.
The Mountaineers are back in action tomorrow afternoon when they host Bloomsburg in a doubleheader at Shaute Field. Game one is scheduled to start at 1:00 pm.
Game One
Mansfield 100 010 0 2-7-1
Bloomsburg 213 412 x 13-13-3
Mansfield (11-14, 4-5 PSAC East): Dan Yoder (L, 2-3), Trevor Tellip (4), Nick Grove (5) and Scott Erickson.
RBI – Ryan Giblin
Bloomsburg (11-19, 4-5 PSAC East): Johnson, D. (W, 2-4) and James, V.
2b – Hitchcock, P.; James, V.; Eckley, P. HR – James, V. 2 (5)
RBI – James-4, Eckley-3, Bucher-2, Hitchcock, Ward, Tressler, Robinson
Game Two
Mansfield 200 110 0 4-8-2
Bloomsburg 010 302 x 6-7-2
Mansfield (11-15, 4-6 PSAC East): Ryan Wyland (L, 5-1) and Scott Erickson.
2b – Wyland RBI – Dave Meldrum-2, Matt Young, Nate Grove
Bloomsburg (12-19, 5-5 PSAC East): Markey, C. (W, 3-3) and James, V; Letts, R.
2b – Bucher, A.
RBI – Tressler-3, Eckley-2, Bucher