RELEASE DATE: 7/17/08
RELEASE DATE: 7/17/08
FOR IMMEDIATE RELEASE: Mounties Have 60 PSAC Scholar Athletes in 07-08
LOCK HAVEN -- The Pennsylvania State Athletic Conference announced that 1,488 student-athletes from the conference will be named PSAC Scholar Athletes. 60 Mountaineer men and women are honored amongst the <![if !vml]>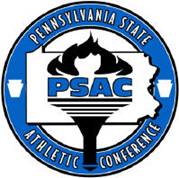 <![endif]>list, highlighted by Chris Cummings who was named to the PSAC Fall, winter and spring Top Ten. Dave Sanford was also named to the Top Ten during the winter season.
Cummings was one of 10 members of the PSAC to be named Athlete of the Year in their respective sports and then find themselves on the PSAC Scholar Athlete list.
In order to be named a PSAC Scholar Athlete, a student must carry a 3.25 grade point average while competing in a sport.
The following is a breakdown of Mansfield University's 2007-08 PSAC Scholar Athletes:
Men:
Menís Cross Country/Track and Field: Chris Cummings, Bryan Falcone, Joe Stanek, Dave Sanford, John-Mark Stoltz
Men's Basketball: Armen Henderson, Kevin Smith
Baseball: Nick Martyak, Tyler Noel, Abram Yeakel, Matt Young
Women:
Field Hockey: Beka Brown, Laura Carden, Christi Carter, Courtney Grunza, Ryanne Higgins, Keely Jarrett, Shana Markwis,
Shantee Proctor, Carlyn Spangler, Breanne Tobin,
Soccer: Jaclyn Karlovich, Kim Pachuta, Kaytlen Robinson, Justine Segear, Robyn Travisano, Anita Valerio
Women's Cross Country / Track and Field: Christyna Cain, Michelle Clarke, Chelsea Conway, Clarissa Correll, Brenae Edwards, Sam Goldthwait, Sarah Groat, Tricia Learn, Sarah Pinkowski, Irene Primmer, Jessica Wagner, Jessica Allyn, Amy Dodson, Amanda Fedish, Katie Foster, Abigail Giaotti, Sara Vivona, Abigail Waltz
Swimming: Sarah Koontz, Tricia Learn, Megan Smickley, Maggie Stengel
Women's Basketball: Tegan Atallah, Alicia Espigh, Brittany Reed, Mallory Hafer, Clarissa Correll
Softball:Janelle Antes, Melissa Baer, Gabrielle Carrullo, Jessica Christ, Michelle Forsburg, Lindsay Knapp, Amanda Lewis, Shana Markwis, Jen Messner, Megan Trutt,