RELEASE DATE: 8/14/07
FOR IMMEDIATE RELEASE: Sunny sky's and comfortable temperatures greet field hockey and women's soccer teams for preseason camp
MANSFIELD – If weather is any omen for the upcoming seasons then the Mansfield University field hockey and women's soccer team can expect smooth sailing in 2007.
Both teams reported to camp on Sunday evening and both went through three-a-day drills, conditioning and mental preparation the past two days.
"Every preseason you hope the players report to camp in good physical shape," said head field hockey coach Diane Monkiewicz as she opens her 10th preseason camp at Mansfield. "Of course some players are always ahead of others, but overall we look pretty good. We have a very experienced team returning so hopefully we will be able to get a good jump start on the season."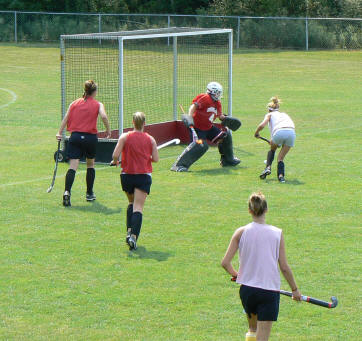 Getting a good start to the season will be important to the team that has high expectations of returning to the PSAC playoffs after making the program's first-ever appearance last year.
Mansfield started off the 2006 winning just one of their first five games before catching fire down the stretch, winning five of their final six games, before falling to National Champion Bloomsburg 3-2 in the opening round of the PSAC playoffs.
The Mountaineers return their top five scorers from last year's team including All-American's Ryanne Higgins and Breanne Tobin who combined for 35 of Mansfield's school record 61 goals last season. Senior Keely Jarrett also returns to the front line where she scored 13 goals in 2006.
The mid-line is also solid and filled with veterans including senior Shana Markwis as center and sophomore Carlyn Spangler. The duo combined for 27 points last season.
Sophomores Courtney Grunza and Jenna Shaub started every game on defense as freshman last season while junior goalkeeper Brianna DeLuca set a school with five shutouts last season.
The team has a scrimmage at Houghton College on Aug. 20 before opening the 2007 campaign with a two-game road trip against Bellermine (KY) College and Mercyhurst College before hosting Bryant College on Sept. 2.
Unlike field hockey which welcomes just one freshman to camp, the women's soccer team brings nine newcomers to its 21 player roster.
Although the team maybe young, it is not inexperienced by any standard.
Head coach Tim Dempsey feels the 2007 squad could be the best team in school history. Dempsey should know. As the only head coach in the program's history, Dempsey has developed a competitive Division II program that posted a winning season in just its fourth year of existence in 2005.
"We getting to know one another pretty quickly and seeing who can play where," Dempsey reports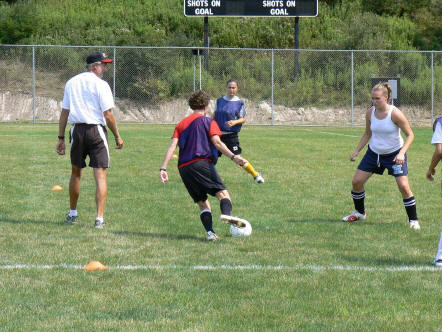 after the second day of camp. "The regular season's going to be here very quickly and we need to develop a mental toughness as well as physical toughness right out of the gate."
Last season the Mountaineers lost their first six games of the season before righting the ship to finish 5-5-2 over the rest of the year.
The team returns its top four scorers from last season including Colleen Corcoran and Lyndi Keiser, the top two scorers in school history. Last season the pair combined for 13 of the Mountaineers 23 goals last season.
Seniors Anita Valerio and Caroline Furmato the team's third and fourth leading scorers are also back at midfield and forward respectively. Fellow senior Kim Pachuta joins Valerio at midfield after starting all 18 games last season and they will be joined by junior Kaytlen Robinson who started every game last year.
The defense will be keyed by senior captain Robin Travisano who has started every game during her career while sophomores Brittany Lauck and Katie Parsnik each earned starting time as freshmen.
Justine Segear returns at goalie where she started every game last season.
The team will scrimmage Wilkes University on Sept. 22 before opening the 2007 campaign with a two-game home stand with PSAC West foes Edinboro University on August 25 and Shippensburg on August 29.