RELEASE DATE: 8/27/07
FOR IMMEDIATE RELEASE: Josh Palmer Pigskin Classic Moves to New Venue – 2007 Classic Features North Penn and Cowanesque Valley in Backyard Brawl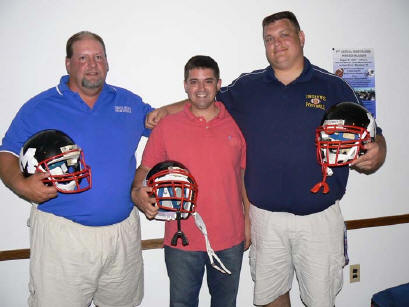 MANSFIELD – Mansfield University won't field a football team in 2007, but three former Mountaineer football players have combined to rescue the Josh Palmer Pigskin Classic.
The Josh Palmer Pigskin Classic is alive and well thanks to efforts Josh Palmer, Tom Dickinson, and Jim Burns along with Mansfield University and North Penn and Cowanesque Valley High Schools.
The two Tioga County schools will meet in their 2007 season opener this Friday evening at North Penn Bob and Marion Jones Field at Island Park in Blossburg.
Kickoff is at 7 p.m.
The game will also be the showcase for the nationally recognized 200-plus member Mansfield University marching band - the Spirit and Pride of Pennsylvania - in its first public show of the year.
The Spirit and Pride will play a pregame show at 6:30 p.m. along with a 15-minute halftime show.
For the past six years, the Palmer Pigskin Classic has been the home opener for the Mansfield University football team. Over that span the event raised thousands of dollars to help support the Josh Palmer Fund in its mission of helping area youth afflicted by cancer.
Palmer is a former Mansfield University football player who overcame Hodgkin's disease with the goal of returning to the playing field. It was he was undergoing cancer treatments that he decided there was a need to help others stricken with cancer with a support group.
As an event to help raise money for the Josh Palmer Fund, Mansfield University hosted the first Palmer Pigskin Classic just days following 9/11 in 2001. The Pigskin Classic has been held every year since as the Mountaineers home opener.
That tradition looked in jeopardy when Mansfield dropped its NCAA Division II program at the end of last season.
"We really didn't know if there would be a 7th Annual Palmer Pigskin Classic, " said Steve McCloskey who has served as the event coordinator since its inception. "I vividly remember talking with Jim Palmer (Josh Palmer's father) at a Mansfield University basketball game in the winter and thinking there had to be a way to continue with something that has such a positive effect on so many lives."
Although it would not sponsor a football program in 2007, Mansfield University wasn't giving up on the Palmer Pigskin Classic.
North Penn head coach Tom Dickinson, a former player and coach for the Mountaineers, was approached to see if North Penn would be interested in hosting the Palmer Pigskin Classic this year.
"Everytime I went past Van Norman field I was overcome by sadness," said Dickinson at a recent event promoting the Classic. "To me the Palmer Pigskin Classic has always been about not give up and to find a way to overcome any adversary. That's a lesson we want to teach our kids."
As luck would have it North Penn's 2007 opener was against a team coached by another former Mountaineer player and Mansfield grad in Jim Burns. In fact, Burns actually played for a season with Josh at Mansfield.
"This is just a terrific opportunity for our kids," said Burns. "We struggled at times over the past couple of years in building a program, but our kids have stayed with it and believed in it. That's the same message the Palmer Fund preaches. Playing in the Pigskin Classic is a big deal for our school and our kids. "
While there will be a limited supply of Palmer Pigskin Classic tee shirts available to purchase at the game, the main source of revenue is from a raffle.
More than 25 items including Buffalo Bills, Penn State and Army game tickets along with autographed memorabilia from the NFL, NBA, NHL and MLB will be raffled away during the course of the game.
The Grand Prize in the drawing will be a guest appearance on All Outdoors with Alan Probst nationally syndicated TV Show for an episode on fishing for trout in Tioga County that will be aired during the Spring of 2008.
Probst is a former Mansfield University baseball player who played professional ball for 10 years after being drafted by the Houston Astros.
"It going to be a great night for football, for the Josh Palmer Fund and for our community," said Dickinson. "But wait to you hear that band – they will knock your socks off."
Tickets for the raffle are $2 each or three for $5 and will be available at the game.
2007 Josh Palmer Pigskin Classic Raffle Items
Grand Prize – Guest appearance on All Outdoors with Alan Probst Nationally TV Show – Fishing for Trout in Tioga County during Spring of 2008
Football Tickets
2 Tickets-Baltimore Ravens at Buffalo Bills (October 21)
4 Tickets, Parking Pass & Parade Passes – Temple (September 29) OR
Tulane (October 6) at Army
2 Tickets-Florida International at Penn State (September 1)
2 Tickets-Buffalo at Penn State (September 15)
4 Box Seats Philadelphia Phillies
4 Tickets-Duke at Penn State Women's Basketball
2 Mansfield University Basketball Season Tickets
2 Pennsylvania State Athletic Conference Season Pass for any conference contest
Autographed Items
Autographed Team Football – 2006 NY Jets
Philadelphia Eagle Mini Helmet Autographed by Kevin Kolb Eagles first draft choice in 2007
Arizona Cardinals Mini Helmet Autographed by Heisman Trophy quarterback Matt Leinart
NY Giants Mini Helmet Autographed by Guard Chris Snee
Cleveland Indians Cap Autographed by Pitcher Joe Borowski
Cleveland Indians Floppy Hat Autographed by 3rd Baseman Casey Blake
NY Islanders Game Pucks Autographed by Chris Simon & Jason Blake
Shawn Bates (NY Islanders) Autographed Action Picture
Baseball Autographed by Former Mets & Reds OF George Foster
Baseball Autographed by Cleveland Indians OF Trot Nixon
Autographed basketball by Mike Bibby and Brad Miller of Sacramento Kings
K.C. Jones, Boston Celtics – Hall of Fame -- Autographed Basketball
Clothing
Army Polo Shirt
Army Sweater Vest
Mansfield University Football Sweatshirt