RELEASE DATE: 3/29/08
FOR IMMEDIATE RELEASE: Brumfield, Cummings named Mansfield Winter Athletes of the Year
MANSFIELD -- Seniors Katrina Brumfield and Chris Cummings were named the Winter Athletes of the Year for Mansfield University at the 2007-08 Winter Sports Banquet this week.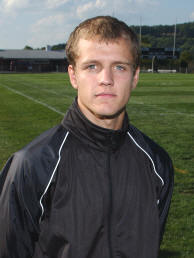 Cummings received his school record seventh athlete of the year award after another remarkable season. Cummings, who recorded the sixth best PSAC time in the 800 and fourth best time in the 3000, won the mile run at the PSAC Indoor Championships. He became the first male runner in school history to become a repeat conference champion.
Cummings was also the anchor of the Mansfield distance medley relay team that won the conference championship and qualified for the NCAA Division II National Championship meet.
At the Penn State Invitational, Cummings was the top Division II finisher in the mile with a time of 4:09.80 and qualified him for the Division II National Championships.
At the National Championship, despite running two races the night before, Cummings came from the back of the pack to come within inches of winning the race. Cummings finished second in the closest mile finish in the history of the NCAA Division II championships. This was the second time in his storied career that he raced in the championships finish sixth in the mile in 2006.
Cummings was also the first Mountaineer in school history to be named PSAC Indoor Runner of the Year.
Katrina Brumfieldís leadership on the womenís indoor track team showed at the PSAC indoor championships this year. Brumfield had a hand in all of the teamís points with a sixth place finish in the high jump and as part of the 4x400 relay team that finished sixth.
Brumfield won the high jump at the Gulden Relays at Bucknell in a field that featured 20 jumpers from the Division I and II levels. She also won the Cornell Open Invitational with a jump of 5-4 Ĺ, a season best jump.
Brumfield also finished fourth at the CTC meet in the pentathlon and also earned the team points in the high jump and triple jump.
Brumfield will graduate in May with a degree in Mass Communication with an emphasis in broadcasting and public relations.
Other awards presented at the 2007-08 Winter Sports Banquet
Women's Basketball
| | |
| --- | --- |
| Most Valuable Player | Jeanette Meacham |
| Most Improved Player | Brittany Reed |
Menís Basketball

| | |
| --- | --- |
| Most Valuable Player | John Hampton |
| Most Improved Player | Chris Pender |
Womenís Swimming
| | |
| --- | --- |
| Most Valuable Player | Maureen Maikner |
| Most Improved Player | Maggie Stengel |
Menís Indoor Track and Field
| | |
| --- | --- |
| Most Valuable Player | Chris Cummings |
| Most Improved Player | Mike Gray |
Womenís Indoor Track and Field
| | |
| --- | --- |
| Most Valuable Player | Katrina Brumfield |
| Most Improved Player | Katie Foster |
Cheerleading
| | |
| --- | --- |
| Most Valuable Player | Corrina Boatman |
| | |